Stables announce the release of their second studio album 'Reverie'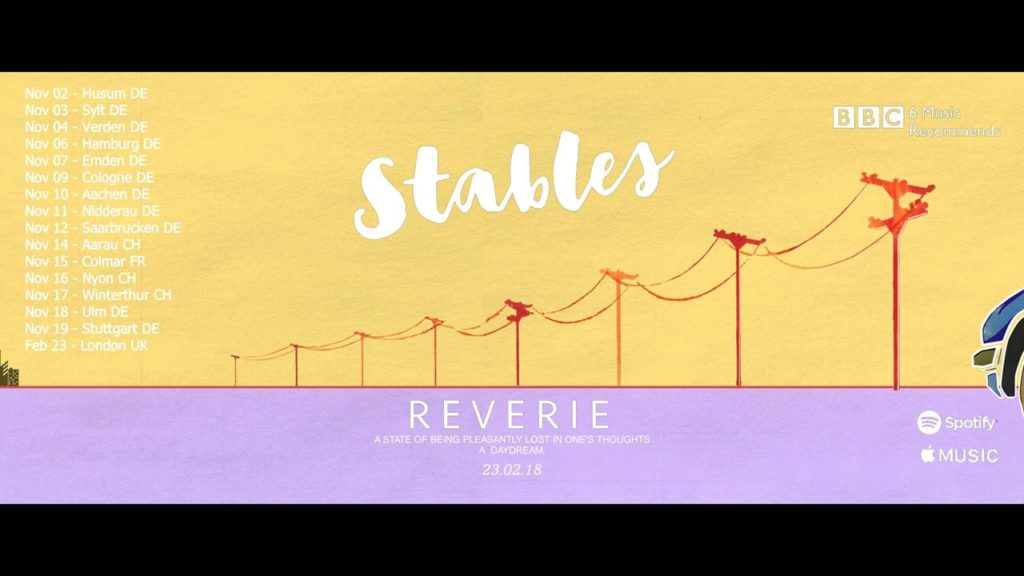 The alt folk duo Stables are extremely proud to announce the release of their second studio album 'Reverie' (23rd of February 2018).
Their Second supporting single 'Disagree' is released this week (12.01.18) – https://www.youtube.com/watch?v=dMpzrTAyGeY
Stables were formed at the beginning of 2016 initially as a side project to another band Keston Cobblers Club, before gaining momentum with the release of yjeir debut album 'Beyond Brushes'; receiving a great industry and fan response, including the championing of Steve Lamacq and BBC 6 Music Recommends, embarking on their first UK and French headline tours and performing at some amazing festivals such as Glastonbury.
As a result, they were fortunate enough to go full time with Stables last year, increasing their levels of activity, touring around the country further, playing more festivals and completing their first European, headline tour around Germany, Switzerland, Belgium and France in November.
Reverie – 'a state of being pleasantly lost in one's thoughts; a daydream.' –  Reverie was written during a disjointed period , it's an 'almost breakup' album, filled with observations of a stagnant, but purposeful relationship and reflecting on the good times and bad, with an open conclusion to finish. The album is a split between the various moods and emotions, with the tempo, energy and variation of tracks reflecting this.
After announcing the release date of Reverie last year Stables were over the moon to have SOLD OUT our album launch concert at London's St Pancras Old Church (23.02.18) six months in advance. Their live performances rely on energy with the sound of a full band. Stables play multiple instruments, sing big, two part harmonies and ensure crowd interaction. They have been compared with Simon & Garfunkel, The Tallest Man on Earth, The Lumineers and early Bon Iver amongst others.
Stables will be announcing theur full European and UK headline tour and Festivals for 2018 in the coming months.
www.stablesmusic.com
www.facebook.com/stablesmusic
www.twitter.com/stablesmusic