REVIEW: The Master of Horror, John Carpenter, Liverpool Music Week 2016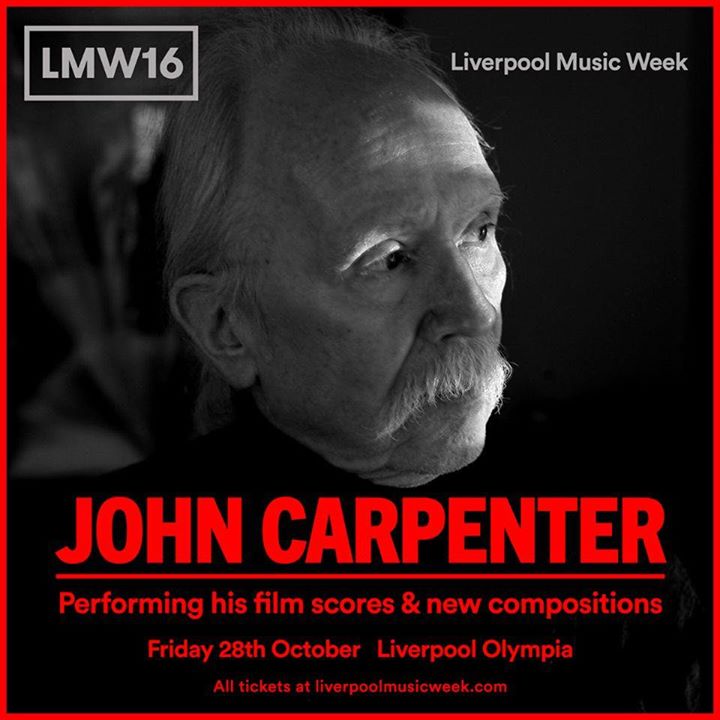 When someone, the magnitude of John Carpenter comes to town, you can expect horror and music fans alike to come out in their masses. And come out they did, with queues around the Olympia in Liverpool.
The Olympia was jam packed by the time the man himself took to the stage. With his 4 piece band behind him and the director's movies projected on a large screen, which itself was framed and mirrored by four smaller screens, the stage was set.
And he wasted no time to get things going. Kicking off with the music from "Escape to New York" the lively crowd cheered and hollered as the opening credits came up and Snake Plissken appeared.
This was a journey through Me Carpenters celluloid past and the crowd were with him all the way. Through Assault on precinct 13, The Fog and The Thing the audience didn't let up and they were almost besides themselves when John Donned his black sunglasses and They Live kicked into life behind him.
When the infamous Halloween theme made an appearance, well I think it was safe to say that some people probably self combusted.
The band also played tracks from John's dark and brooding Lost Themes albums which were met with the same rapturous response.
Liverpool Music Week may have just pulled off the biggest coup in their 12 years. This was something people will be talking about for many years to come and quite rightly so. This was a masterpiece in showmanship from the Master of Horror.
John Carpernter had came to chew bubble gum and blow the mind of a Liverpool audience. And he was all out of bubble gum….