Review: Bluedot Festival 2017 day two at Jodrell Bank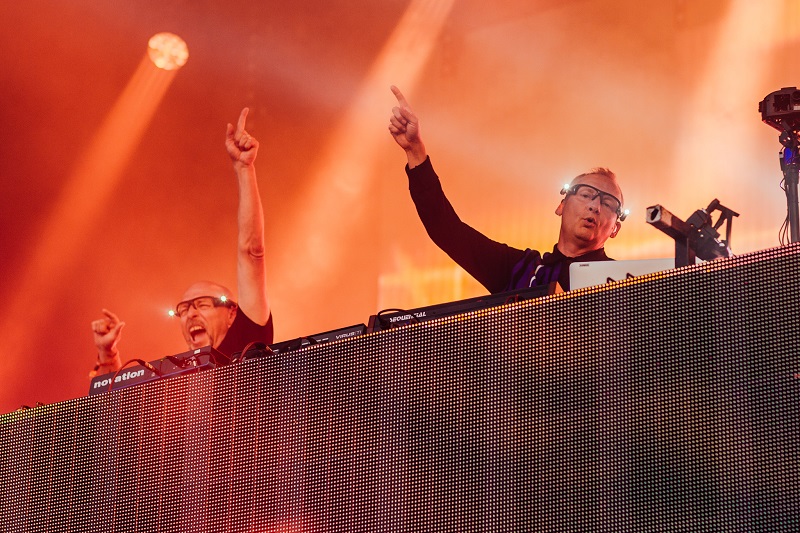 A music festival that brings together science, astronomy and live music together in one space is not something you would think would work, but at Bluedot Festival it does. And it works flawlessly.
Nestled at Jodrell Bank, Bluedot is now in its 2nd year and seems to be growing in stature. The second day of the festival brought sunshine and electronic dance headliners Orbital to the main stage.
And Orbital gave us a sight to behold, as thousands of revellers jumped, danced and hollered to the duo's strobe filled set under a full moon that looked on besides the Lovell telescope. With the likes of Satan and Chime being transmitted across the sea of glowing lights and bobbing heads, you could be forgiven in thinking that you had been transported back to 1992 such was the euphoria of the crowd and the energy being released.
Alongside erratic mixes of Heaven is a place on Earth by Belinda Carlisle and an encore that consisted of a remix of the Dr Who theme with collaborators the BBC's Radiophonic Workshop, Orbital provided a robust, sumptuous and embracing headline set.
Earlier on in the day, Goldfrapp graced the main stage with their 80s future style ambience. Alison Goldfrapp, dressed in a suitably themed silver outfit, ran through the set with explosive energy. Songs like Strict Machine, Anymore, and their latest release Silver Eye kept the crowds on their feet but none more so than when playing Oh La La, which saw almost everyone singing and wave their hands in the air in unison.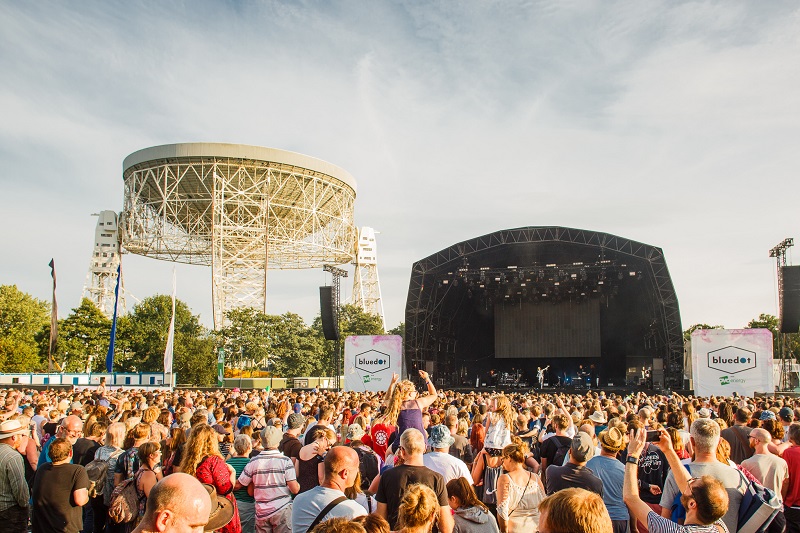 Away from the main stage Ider were bringing their hypnotic sound to the Nebula stage. Walking into the tent was like catching the end of a Twin Peaks episode at the Bang Bang Bar, their sound is warm and erratic yet quite vulnerable at the same time. They did well to be heard over the main stage also which unfortunately was bleeding music throughout Ider's set.
was kicking up a fuss at the orbit stage. Not a prima donna type fuss but a heavy, beat laden, get on your feet and dance kind of fuss. Eddy was once called the best DJ the Prodigy had ever taken on tour and listening to his set you can quite believe that is true. Obviously heavily influenced at times by the prodigy, this set had it all. From disco to drum and bass through to giant bass line tracks and light synth softness it was only a shame he was competing with the headline act of the night because this was something that should have been experienced by a lot more people.
Bluedot has so much going on that you can easily get lost in all the events it has on over the 3 days. A very family friendly festival with something for everyone from ages 2 to 82, it has the privilege of being a very unique festival were its not all focused about the music but brings with it an opportunity to learn and to wonder at the marvels of the universe and the science and technology behind it. Only at Bluedot would you find bigger queues for talks about space exploration and entrances into inflatable tunnels and domes than you would for the bar.