House of Common announce Craig Charles, Dawn Penn, Hackney Colliery Band, Toddla T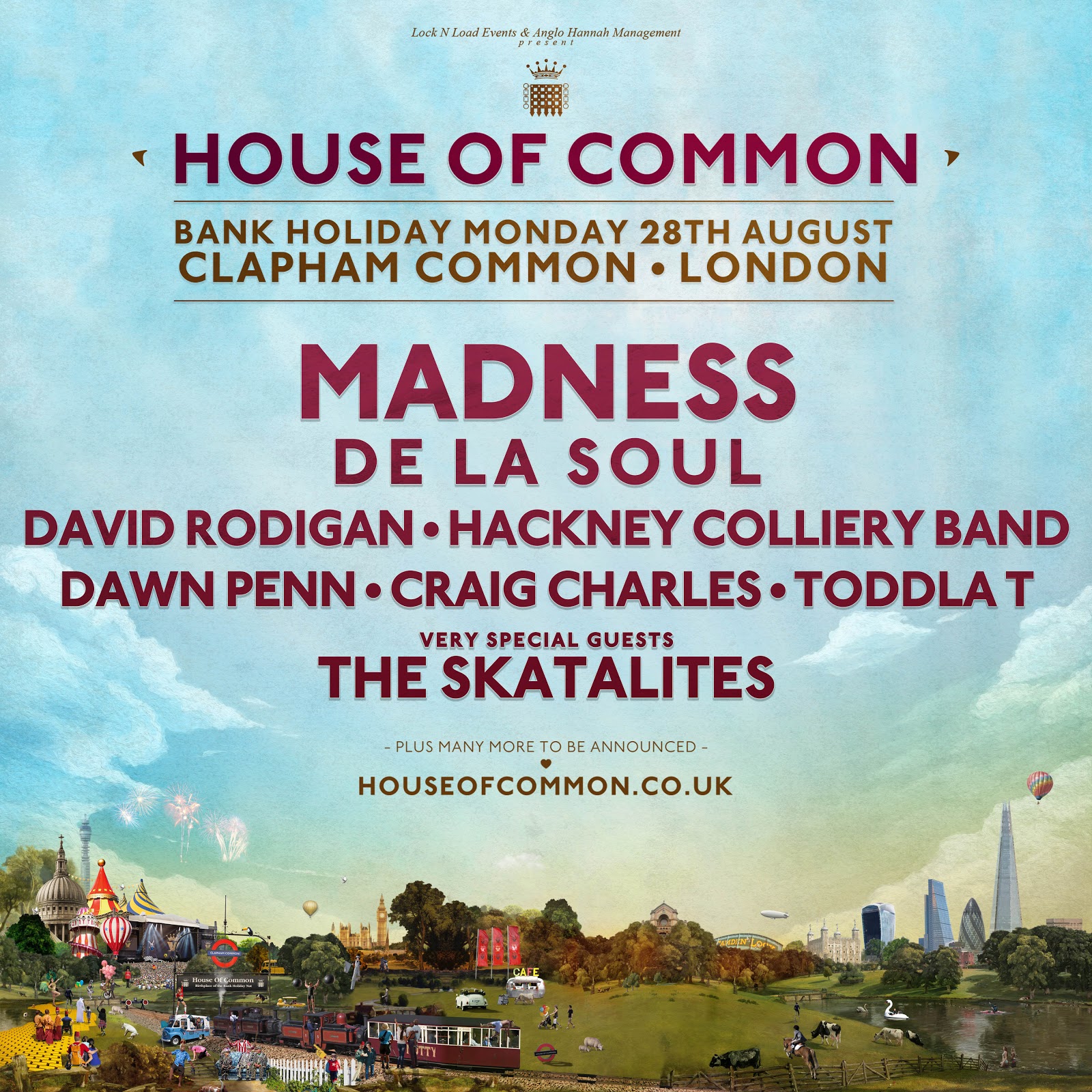 House of Common are delighted to confirm that Craig Charles, Dawn Penn, Hackney Colliery Band, Toddla T and very special guests The Skatellites will be joining this year's festivities at House Of Common, alongside the event's curators Madness, 'Three Feet and Rising' stars De La Soul and reggae legend David Rodigan. More artists, stages and news of family-friendly areas will be to be revealed in the coming weeks, with House of Common 2017 shaping up to be one essential events of the summer.
With his radio show the most popular 'Funk & Soul' radio show in the world, Craig Charles will be joining the line-up this year, bringing his 6music Saturday night party vibes to Clapham. 'You Don't Love Me' reggae legend Dawn Penn, most well known for the hit track 'No No No', will be also be joining the bill, alongside the renowned The Skatellites, aiding the bank holiday goodness with their ska and rocksteady beats. Delicate one minute, powerfully energetic the next, Hackney Colliery Band will be bringing their unique sound to House Of Common, whilst Toddla T will be returning to this year's festival, ready to get the crowd hyped at what will be an unmissable day at Clapham Common.
The strength and breadth of this year's line-up is yet to increase with additions to be announced in the coming weeks. Madness' recent announcement of the event's return on Bank holiday, Monday 28th August, also signalled what will be their only London live date of 2017.
After the roaring success, frivolities and debauchery of last year's House of Common, a return to the scene of the crime was inevitable. A wonderful day in the sun saw Madness joined by Toots and the Maytals, David Rodigan, Lee 'Scratch' Perry, Norman Jay and more, and this year's line-up – to be announced in the coming weeks- promises to deliver all this and much much more.
Located in the heart of the capital, Clapham Common is Madness' spiritual home (South of the river, at least) and for good reason- An oasis of peace amid the busy traffic of South West London, it is a vibrant summer destination, famed for its annual music gigs and festivals and provides.
Madness say: "Madheads, Carnival heads and madkids united to revel in the sunshine on Clapham Common for the first ever House of Common in 2016, it was the highlight of our mad year and we're now spending these cold hours and days planning how to make 2017's even better, we'll worry about the entertainment, you bring the sunshine"
For more information and tickets please visit http://www.madness.co.uk/houseofcommon/