GIT AWARD – Liverpool music community set for biggest party of the year at Constellations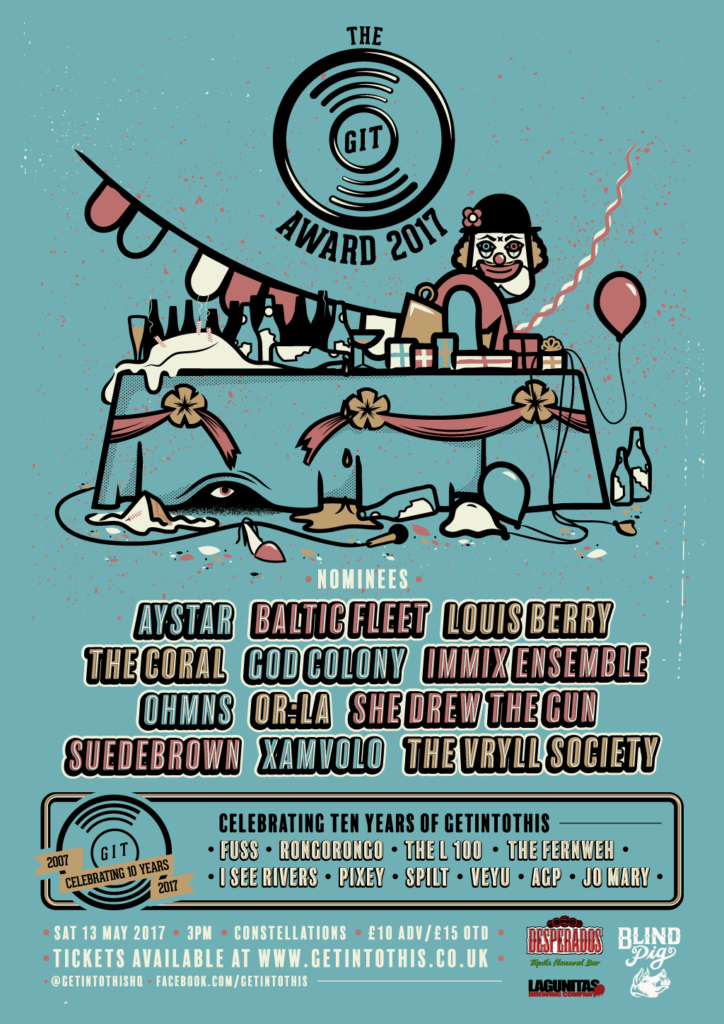 The most exciting bands right now are from Liverpool. That is an irrefutable fact – Simon Raymonde, Bella Union Records
The GIT Award represents artists of the future – Yoko Ono
The GIT Award illustrates just how colourful the music scene in Liverpool is today – Domino Records
INSPIRATION AWARD TO BE REVEALED
Liverpool music prize, The GIT Award 2017 culminates in a spectacular all-day event on Saturday May 13 at Constellations.
Back for the sixth year, The GIT Award features Merseyside's finest new music – and this year has the added spectacle of TEN more acts performing in celebration of 10 years of Getintothis – the Liverpool music webzine which founded the prize in 2011.
The live performances begin at Constellations in an outside Garden Stage at 3pmbefore moving inside at 7pm for the main GIT Award featuring further live performances from nominees, special guests, DJs and more.
From more than 400 entries, 15 judging meetings and a final meeting in early May…
The GIT Award 2017 shortlist is:
Aystar, Baltic Fleet, Louis Berry, The Coral, God Colony, Immix Ensemble,
Ohmns, Or:la, She Drew The Gun, Suedebrown, XamVolo and The Vryll Society
The Quietus' editor and GIT Award judge, John Doran, who will DJ on the night, said: "It's always a pleasure to be involved in The GIT Award judging process. Liverpool is buzzing and I always come away from being a judge with a clutch of new bands I'm really into. I'm looking forward to Saturday."
The ten acts playing during the first part of the day are – FUSS, Rongorongo, The L 100, The Fernweh, I See Rivers, Pixey, SPILT, VEYU, AGP and Jo Mary – who present a kaleidoscopic insight into the world of new music in the Liverpool region.
As well as a very special guest performing, the winner of this year's One To Watch Prize, rising pop-rocker Zuzu, will also feature capping her remarkable rise from virtual unknown to Radio One star.
The event will be hosted by BBC Radio Merseyside punk legend Roger Hill while Liverpool-based architectural company ArchiPhonic are once again involved in setting the scene, creating the trophies and creating the visual spectacle.
Mike Deane, Liverpool Music Week director and GIT Award judge, said: "Another year, another brilliant final twelve GIT Award nominees – with arguably the best and certainly the most diverse music selection to date.
"2017 was possibly the most intense the process has been for the judging panel – there are some artists and music I still can't quite believe haven't made the shortlist – but there is no question that every one of this final twelve deserves their place.
"I think how tough the decisions were this year definitely reflects just how healthy Liverpool's current music scene is right now – it's certainly one of the freshest shortlists we've had for The GIT Award since the very beginning with lot of new names for people to discover."
Also on the night, a special Inspiration Award, recognising services to Liverpool's music industry will also be presented. Previous recipients are Kevin McManus (2016), Alan Wills & Deltasonic (2015) Africa Oyé (2014), Hillsborough Justice Collective(2013) and The Kazimier (2012).
With a raft of exclusive videos, guest speakers and also free drinks courtesy of Dead Crafty Beer company – who have teamed up with Getintothis to make a special beer named Crafty GIT – it's all set to be another magical GIT Award evening.
Peter Guy, GIT Award founder, said: "In what was the toughest decision process yet, the GIT Award 2017 shortlist reflects a new cycle in Merseyside music – one which covers artists from all spheres of music; be it grime, techno, psychedelia, orchestral instrumentation through to pop, folk and rock & roll – each at the top of their game. This year's 12 challenge, innovate and make quite superb music, I can't wait for Saturday May 13 at Constellations when it all comes together."
The GIT Award 2017 takes place at Constellations in Liverpool's Baltic Triangle on Saturday, May 13,3pm until late. 
Tickets are available http://getintothis.bigcartel.com/product/the-git-award-2017-e-ticket
For all other details: www.getintothis.co.uk