George Clinton & Parliament Funkadelic announce Spring 2017 UK tour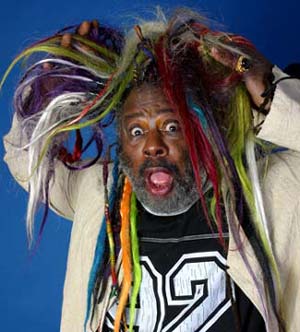 The godfather of funk and one of the most influential musical innovators of our time, George Clinton & Parliament Funkadelic is bringing the Mothership back to the UK in May, landing at venues in London, (O2 Forum Kentish Town), Glasgow (O2 ABC), Leeds (O2 Academy), Manchester (O2 Ritz) and Bristol(O2 Academy).
Clinton has produced and recorded with a staggering array of profile performers including Primal Scream, Outkast, Bootsy Collins, and RZA, even guesting on Kendrick Lamar's To Pimp Like A Butterfly album in 2015.
Famed for "One Nation Under a Groove" and "Atomic Dog" and inspiring the likes of the Red Hot Chilli Peppers, Prince, Afrika Bambaataa and Macy Gray; to mentoring Public Enemy, Eric B & Rakim and providing much of De La Soul and Snoop Dogg's musical education; he is the single most sampled artist in musical history. 
Clinton & Parliament Funkadelic released more than 40 R'n'B hit singles and three platinum albumsduring the 1970s and received an induction into the 'Rock and Roll Hall of Fame' in 1997, along with 15 other members of Parliament Funkadelic.
In more recent years, 75 year old Clinton's resurgence has led to him penning his seminal music memoir, "Brothers Be, Yo, Like George, Ain't That Funkin' Kinda Hard on You?" (2014), recorded new material with Funkadelic, 'First Ya Gotta Shake The Gate" (2014) and in February 2017, announced he's signed up to oversee Experience Vinyl as an artist alongside Elton John. The Funkadelic leader has also appeared in the surreal directorial debut of Flying Lotus', 'Kuso' that premiered at the Sundance Film Festival in January 2017.
George Clinton began his music career in the 1950s, while working at a barbershop in Newark, New Jersey. He founded a doo-wop singing quintet he called The Parliaments out of the shop's back room. In 1968, they renamed themselves Funkadelic, after Clinton's back-up band. In 1972, when Clinton was finally able to get back the Parliament name, the group began using both the Parliament and Funkadelic moniker.
Wednesday 10 May    Glasgow, O2 ABC
Thursday 11 May        Leeds, O2 Academy
Friday 12 May             Manchester, O2 Ritz
Saturday 13 May        London, O2 Forum Kentish Town*
Monday 15 May          Bristol, O2 Academy
Tickets £26.50 adv
*London £29.00 adv – £35.00 VIP