First acts announced for 'Across the Threshold' this April in Liverpool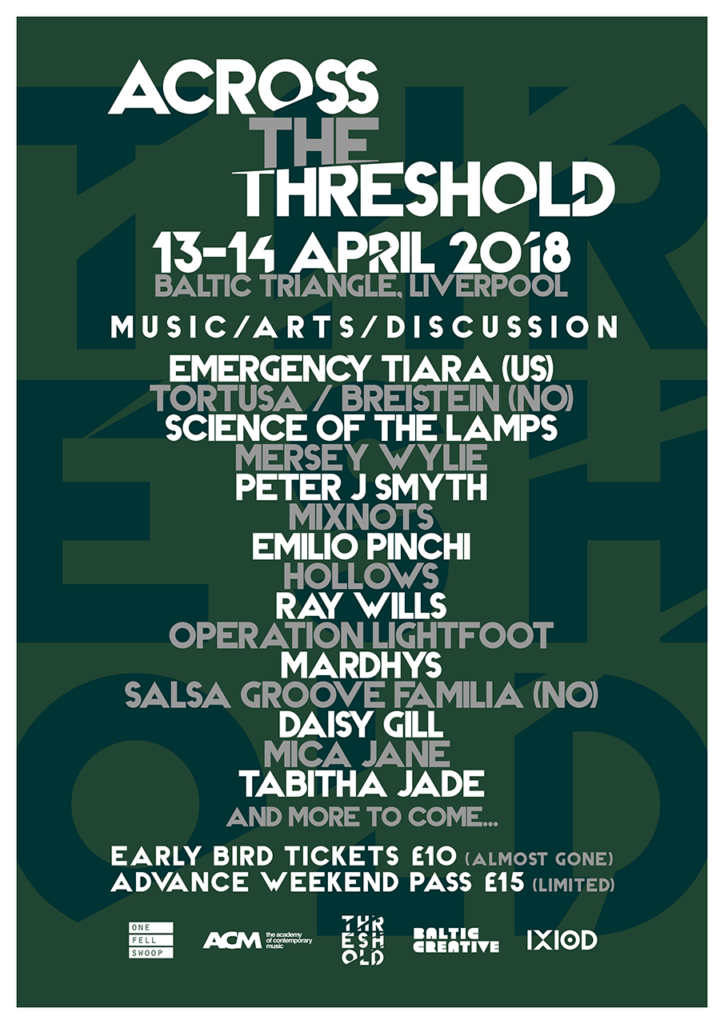 Across the Threshold 2018 – 13-14 April – The Baltic Triangle
Following the success and building on the legacy of seven consecutive years of their Festival of Music & Arts, Threshold are returning to the Baltic Triangle on April 13th & 14th to bring you a special, scaled down mini-festival and industry event, and now the first acts have been announced.
Over 2 days with long-term partner venues District, Unit 51 and Baltic Creative,Across the Threshold will showcase a snapshot of some of the North West's and UK's best grass roots music, visual arts and innovative performance.
The first acts confirmed for Across the Threshold are:
Tabitha Jade
Tabitha Jade is an award winning, Songwriter, Singer, Musician from Merseyside, currently studying at Paul McCartney's LIPA. The rapidly emerging writer singer was crowned UK National Song writing U16 Winner 2015, voted by Sony and Universal in London. In the same year she was a finalist in 3 other National Competitions, TeenStars and OpenMicUK, confirming her as one of the UK's top rising stars.
In 2017 she was selected as one of the coveted LIMF Academy Top 20 (Liverpool International Music Festival), was voted Best Urban Pop Female 2017 (Major Online Radio) & 2017 One to Watch, and nominated for Best Of British Unsigned Female 2017.
2018 has already seen her recognised as a LIMF Academy One To Watch, and she's been nominated for Best Live Act 2018 by the Liverpool Lifestyle Awards.
Emergency Tiara  – http://emergencytiaramusic.com

Emergency Tiara is not just an artist, Emergency Tiara is an entire kingdom, where all people can come to feel inspired and special at a moments notice.
Whether through music, fashion, traveling, relaxing, or even the gym; ET will provide you with an experience that will make you feel like royalty.  When you to take a break from your daily stresses place your tiara on your head and listen to the sounds of Emergency Tiara.
Tortusa / Breistein – http://www.deftartists.com/tortusa-breistein-no-booking

Tortusa / Breistein is a Norwegian duo project with electronic musician John Derek Bishop (Tortusa) from Stavanger and saxophonist Inge W. Breistein from Bergen.
The music has an electronically experimental expression in which soundtracks, rhythmic repetition, harmonious textures and strong melodies are in focus. It can be described as improvisational music with composed frameworks and refers to genres such as electronics, Nordic jazz, ambience and minimalism.
Science of the Lamps – http://www.scienceofthelamps.com

Quite appropriately 'Science of the Lamps' was dreamt up by Norwegian Liverpool musician Kaya in an off the beaten track restaurant in the fairytale darkness of the city of Prague in December 2010, although it took another year to realise the project.
A band perfect for festivals and encompassing all that is music, storytelling, art, creative flair, melancholy and silliness – framed in catchy songs, lyrical gems and outstanding musicianship from the quirky band. Their inspiration comes from vaudeville, visual art, early Hollywood movie scores, Nordicana, wine, flamenco, trip-hop, music boxes, Paris and whiskey bars.
Mersey Wylie – https://www.facebook.com/MerseyWylieMusic/
Effortlessly weaving elements of soul, jazz and funk, Mersey Wylie writes songs filled with passion and sincerity. Whether backed by her incredible nine-piece band or performing in a more intimate setting, she always delivers a powerful, honest and exciting performance.
Peter J Smyth  – https://soundcloud.com/god-unknown-records/sets/peter-j-smyth-black-smoke-lp
As front man of leading psych kraut rock heavyweights MUGSTAR Peter J Smyth knows a thing or two of how to riff out and play long passages of fuzz covered repetition, pummelling audiences into submission. 'Black Smoke' however sees a warmer, more introspective Smyth, offering observations of his mental state and, at times, an examination of his soul.
Mixnots – http://mixnot.net

With a one-on-one-off rotation policy and an endearingly haphazard approach to the DJ mix you never know what's coming next when The Mixnots hit the decks. Famed for their wide-ranging musical tastes, boundless energy and infectious enthusiasm, this eclectic collective have brought good music and positive vibes to every crowd and venue they've partied with.
The Mixnots (formerly CantMixWontMixShdntMixDontMix / CMWMSMDM) are well known across Liverpool and the North West, supporting luminaries: Norman Jay; Mr Scruff; 2ManyDJs; DJ Yoda; and Craig Charles at events including Chibuku, Freeze, Evol, Liverpool Sound City and Threshold.
Further afield and into the fields their upbeat energy has earned them appearances at Standon Calling every year since 2008 plus forays into Creamfields, Isle of Wight, V Festival, Kendal Calling along the way, plus a once in a lifetime trip to to Malawi, Africa to play at the fantastic Lake of Stars festival in 2009. More recently they've played mammoth Silent Disco sets at Glastonbury Silver Hayes in 2013 / 2014 (7 / 11 hours respectively).
Emilio Pinchi – https://soundcloud.com/emiliopinchi
Emilio Pinchi is a 23 year old human being living in Liverpool. His music is 'direct, hard hitting, witty, sarcastic, and full of self-deprecation' (DervSwerve).
Influenced by Elliott Smith and Pavement, his debut release 'the Trying Man EP' was recorded in a kitchen, aired repeatedly on BBC 6 Music, featured in Emmerdale, and was described by Tom Robinson (Fresh On The Net) as 'a beautiful, authentic performance that never sounds like it's trying too hard, yet carries absolute conviction'.
Hollows – http://www.hollowsofficial.com
At the turn of 2017 "Hollows" were gearing up to play their first show at Rebellion in Manchester. By October with successful shows in Liverpool, Chester, Sheffield, Birmingham, Manchester and London the band were growing in confidence and took to the stage at some U.K festivals including MAH Festival, Tramlines, Indie Week, Not So Secret Garden Party and Chester Live.
Ray Wills – https://soundcloud.com/onlyraywills

An exciting young talent fresh out of sixth form, Ray Wills is beginning to chase his ambitions of becoming a successful artist Following in the musical footsteps of his mother who was a Jazz singer and bassist, Wills has incorporated a number of different styles into his own writing, such as expressive Indie and alt soul
Inspired by the likes of Radiohead and jeff buckley he continues to work tirelessly and strives to one day impact the music industry on a global scale.
At 19 years of age, Ray Wills is an emerging artist that will knock his audience off their feet with the combination of his intricate guitar playing and delicate yet powerful vocals.
MARDHYS – https://www.mardhys.co.uk

MARDHYS is a Surrey based musical collaboration formed by Dutch singer-songwriter Melatti Braam and Swiss drummer Cherry T.
Together with a bunch of musicians from all over Europe, they create a deep & energetic sound that can be intimate like the subtle guitar play of José González, but they also provide powerful grooves that may remind you of 'Fleetwood Mac' and 'Jefferson Airplane'.
Salsa Groove Familia – https://www.facebook.com/pg/salsagroovefamilia
Groove Familia are a Salsa band based from Oslo Norway. Having played under the name "Banakao" during 2016 and 2017 has reached popularity performing in the following important scenes: Cosmopolite, Det Norske Teatret, Jakob Kirke, Sagene Samfunnshus.
Their live performances are focused on a strong danceable rhythm mixed with an unique blending of spanish and english lyrics. Salsa Groove Familia also experiments other latin genres such as Bachata and Kizomba.
Daisy Gill – https://www.facebook.com/DaisyGillMusic/
Daisy Gill is a singer/songwriter and Alternative Model from Liverpool. She began her musical journey aged just 12 years old, performing at local festivals and any open mic that would have her.
Since then she has developed into a young performer, going from strength to strength. Her distinctive vintage style is always eye-catching, demonstrating a flair and grace not only with her performance skills but with her sense of style
She can be found busking the streets of Liverpool City Centre as well as gigging in venues across the North West.
MIca Jane – https://www.micajanemusic.co.uk
Mica Jane is an Indie Folk singer songwriter. Her culturally mixed background has inspired her to write music that infuses these different walks of life.
Though her core is Folk there are hints of Reggae in the charismatic bass lines played fantastically by Adrian Foulkes and some African and Indie Rock inspired beats and grooves from the exceptional drummer Reiss Hemming.
Operation Lightfoot – https://oplightfoot.bandcamp.com
Operation Lightfoot is a collaboration project that features a range of guest singer-songwriters, musicians, co-producers, photographer and film makers.
Operation Lightfoot's featured guest artists include:
Vanessa Murray
Sophia Ben-Yousef
Frankii Phoenix
Jo Bywater
Kaya (The Science of the Lamps)
Mimi Amore
Kath Porter
More TBC
The project's Artistic Director is professional composer, arranger, multi-instrumentalist and writer Luke Moore.
– –
"We've been doing Threshold Festival since 2011 in the Baltic Triangle and over these years the district and the city as a whole has changed exponentially, for the better. 2018 is a big development year for us and with this scaled down event we are looking ahead to 2019 and celebrating seven boss years of Threshold." – Chris Herstad Carney, Threshold Festival Producer.
Beginning on Friday 13th (what could possibly go wrong?) April, programming will include bands, solo acts, duos and DJs at Unit 51 & District as the weekend is set in motion with a celebration of the legacy of Threshold, welcoming back some of the stand out acts from previous festivals. Amongst the music, expect to see more of the same from the visual, conceptual, digital and performance arts intertwined. 
Saturday morning (14th) will be about looking ahead to the future as the day kicks off at Baltic Creative & District with industry workshops, panels and key notes where the landscape of the music and arts scenes of the region will be explored, discussed, debated and highlighted.
After a day of talking there will be nothing more welcome than much more of what Liverpool does best – music, arts and performance, which will continue well into the wee hours of Sunday. 
But Across the Threshold means just that. The event will serve as a transition from the festival you know and love to look ahead to its reinvention. To set the stage for the years to come, Threshold will launch its 2019 concept as part of this special weekend. Working with partners, venues, funders and artists new and old, Threshold 2019 will be the beginning of the sustainable future of the event for all who have stood by it through the thick and thin and the highs and lows and of course those out there with great talent and drive, waiting to be discovered.
Early Bird Tickets for 'Across the Threshold' are on sale nowfrom Skiddle and are very limited.