Elfin Bow To Launch Stunning Debut Album At Epstein Theatre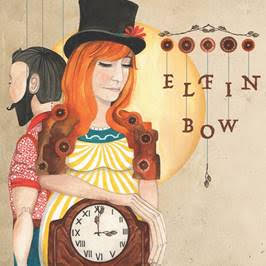 Multi-talented songwriter, musician and artist Elfin Bow prepares to release her highly anticipated self-titled debut album with a special launch event at Liverpool's Epstein Theatre on Saturday 18 March.
A truly 21st Century folk artist, Elfin is a storyteller of the finest kind and brings her pastoral psych-folk sound to audiences at the Hanover Street venue, featuring exclusive performances of tracks from her album as well as a variety of special guest performers.
The new album of original songs which is due for release on 10 March is a result of her determination to pursue her creative dreams and blends her twin passions of music and art. Her songs and stage presence exude colour, charisma and a gentle charm.
Audiences will be mesmerised with dreamy songs including The First Red Leaf of Autumn and Daffadilly Down whilst the pulsing Grimshaw and the Fingerclaw and whistful Edith's Song play out the story of 'The Witch of Melling,' a character inspired by Elfin's childhood.
A rising star, Elfin has recently supported the likes of Robin Williamson, The Sam Kelly Trio, Harp and a Monkey, James Findlay and Tom Kitching and was selected to play the Main Stage at Liverpool's 2016 Folk on the Dock Festival.
Special guests on the night will include host, compere and storyteller, Alice Fernbank who will be selecting intriguing tales and legends to weave around the proceedings. Also performing will be Bryony Elizabeth and Jonathan Darnell of Harp and Guitar. This traditional music duo, playing Celtic harp and acoustic guitar, cover a broad range from medieval and renaissance music through to modern arrangements and British folk music.
Speaking on the upcoming launch, Elfin Bow says: "I hope that this celebration of original, independent music will be testament to the fact that a little fish can play in a big pond, without any compromise on quality, when you allow yourself to find your voice and follow your dreams. I know that this night will be entertaining, intriguing and uplifting in equal measure for everyone. I can't wait!"
It promises to be an evening of exceptional entertainment and deliver a visual and musical feast that will inspire and delight.
Elfin Bow's self-titled debut album will be released on-line on 10 March.
For further details visit www.elfinbow.com
SHOW LISTING
Elfin Bow Album Launch
Date: Saturday 18 March
Time: 7pm
Tickets: £15/ £12 Concessions
*Subject to booking fee. All prices include a £1 per ticket venue restoration levy
VENUE DETAILS
Epstein Theatre
85 Hanover Street,
Liverpool,
L1 3DZ
HOW TO BOOK
Telephone 0844 888 4411
Online at www.epsteinliverpool.co.uk
Book in person at the theatre box office, opening hours are Monday to Thursday 2pm–6pm, Friday and Saturday 12pm–6pm