DJ Edu, Andy Kershaw and Esa Williams head up packed DJ line-up at Africa Oyé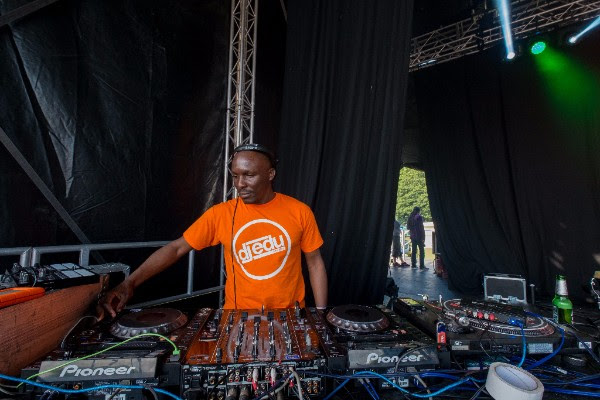 Africa Oyé are set to welcome back a host of familiar faces to DJ at their 25th Anniversary festival in June.
The main stage duties will be taken up by Oyé regulars, BBC 1Xtra star Edu and South Africa's own Esa Williams, whilst broadcasting legend Andy Kershaw heads up a packed line-up of DJs who will showcase their sounds across the wider festival site.
This year, DJs will not only take residence in the Trenchtown area of The Oye Village, but also in the brand new Freetown, which features a second bar and a bus that hosts a vintage shop as well as the area ever-popular with the younger festival-goers; the Afrobeats Zone. Expect afto-centric sounds and global beats from a variety of DJs based in Liverpool and guests from across the UK

Photo: Mark McNulty
Playing a major role in fueling the love of African music in Europe and worldwide, DJ Edu is considered by many to be the leading DJ name in Afrobeats. Having established his name in clubs and the party scene across Nairobi and surrounding East African cities throughout the nineties, the Kenyan born DJ emigrated to the UK in 2000 and immediately set to building his brand in new shores.
Within two years he had cemented his name as the number 1 DJ amongst the East African communities across the UK winning further accolades and club residencies in African clubs. In 2005, 1Xtra secured his services on a permanent basis offering him his own show showcasing the sound of young Africa –DestiNation Africa.

Andy Kershaw
For many in Britain, Andy Kershaw's Radio 1 show will have been the gateway to their first taste of music from Africa. In 1985, he was invited by the station to present his own show with a free choice of music. As his own tastes evolved so did the content of the radio show. Meeting the musicologist and Radio 3 presenter Lucy Duran and the first appearance of Zimbabwe's Bhundu Boys in the UK tipped Andy heavily into African music.
Drawing influences from his South African roots but firmly looking towards the future, Esa Williams embodies a sound without limitations. A charismatic and energy-filled DJ, as well as a gifted producer, his impressive and evolving output spans his early productions on his own label, to collaborations with Auntie Flo and the much-touted Highlife World Series. A regular at many of the best underground parties, venues and festivals across Europe, Esa has also carved out a niche curating electronic music-focused educational programmes in Cuba, East Africa and South Africa.

Esa Williams
For the full DJ line-up at #Oye25 read on:
TRENCHTOWN
Saturday
12.30-2.00  Radio Exotica
Hidden gems from distant lands
2.00-3.00    DJ Lord Borthbury
Dub, reggae and dancehall
3.00-4.00    Code1084 ( DJ Shotz & DJ Billy )
Afrobeat, reggae and dancehall & Afrobeat, soul and oldskool.
4.00-5.00    SNO
Afro, jazz, soul, funk, disco, hip hop, latin, rare groove
5.00-6.30    Andy Kershaw
Soukouss to Salsa, Roots Reggae to Rai, Soca to South African Township Jive.
6.30-8.00    Hustle DJs & Zacharia Soul
Quality Afro-infused house and disco
8.00-9.00    Ex-Friendly & Joff (Truth & Lies Music)
Eclectic African gooves on vinyl
Sunday
12.30-2.00  Bood N Bone
Finding and sharing diverse music
2.00-3.30    George Luke & DJ Mayeva
Less pop, more style – not strictly roots
3.30-4.30    Danny Fitzgerald
Golden-age tropical sounds from the Caribbean, Africa, and Latin America
4.30-5.30    Red Kite
Reggae and dub 7″s
5.30-6.30    Dub Defenders
Roots, heavy dub, electro dub and reggae inspired bass music
6:30-8.00    Marley & Vegas
roots, dancehall and ragga, and the deepest digital dubs
8.00-9.00    Josh Ray
Disco to dub, house to hip hop, Afro to Latin, jazz to blues
FREETOWN
Saturday
1.00-3.00    Bolts (So Flute) & Holmesy
African sounds from right across the spectrum.
3.00-5.00    Dave Butcher
Reggae and dub, along with nuggets from across the globe
5.00-7.00    Schmame Industries
Reggae, roots and dub
7.00-9.00    Rich Furness
African inspired dance and party vibes
Sunday
1.00-3.00    Dharma Collective & Africa Synths
African disco and funk synthesizer music from the 60's-80's
3.00-5.00    No Fakin'
Hip-Hop, funk, soul, disco, reggae and more
5.00-7.00    Chris McBride
Choice cuts spanning the decades and the archives
7.00-9.00    Jess Gascoigne
Latin gems, hip-hop, soul and funk
AFROBEATS
Saturday & Sunday
DJ Tee
Afrobeats, reggae, bashment, hip hop and r 'n' b
One A Penny Sound
Ska, Studio 1, 70s roots, 80s dancehall, lovers rock and classics.
Plus Youth Dance Battles, in association with Movema.
Upcoming #Oye25 Associated Events (MORE TBC)
2017 will be Africa Oyé's 25th Anniversary Year and will see a whole host of events programmed around the annual festival in June under the 'Oyé 25' banner:
8th June 2017
WORLD – Keith's Vinyl Night (Africa Oyé Special)
Keith's Wine Bar, Lark Lane, Liverpool – FREE ENTRY
More Info
10th & 11th June 2017
Positive Vibrations – Festival of Reggae
Baltic Triangle, Liverpool
More Info
19th June – 19th July 2017
Festival 31 – Celebrating Refugee Arts & Culture
Various Venues, Liverpool
More Info
22nd & 23rd September, 2017
SONGHOY BLUES @ Liverpool International Festival of Psychedelia
Baltic Triangle, Liverpool
More Info
Artist and Traders applications are now closed.
The Africa Oyé festival is the biggest free celebration of African and Caribbean music and culture in the UK, taking place every June in the picturesque surroundings of Sefton Park in Liverpool. Having grown from humble beginnings in 1992 as a series of gigs in the city centre, Oyé now attracts crowds of over 50,000 people from all over the world each year and is celebrating its 25th anniversary in 2017.
Africa Oyé is a registered charity and partially funded by the Arts Council of England North West and Liverpool City Council.
Sign up to Oyé's newsletter 'The Oyé Vibe' and mailing list here.
Africa Oye – Website / Facebook / Twitter / Instagram
For more information on Africa Oyé's 25th Anniversary celebrations, visit africaoye.com