Children of the 80s at Hard Rock Hotel Tenerife reveals rest of 2017 line-up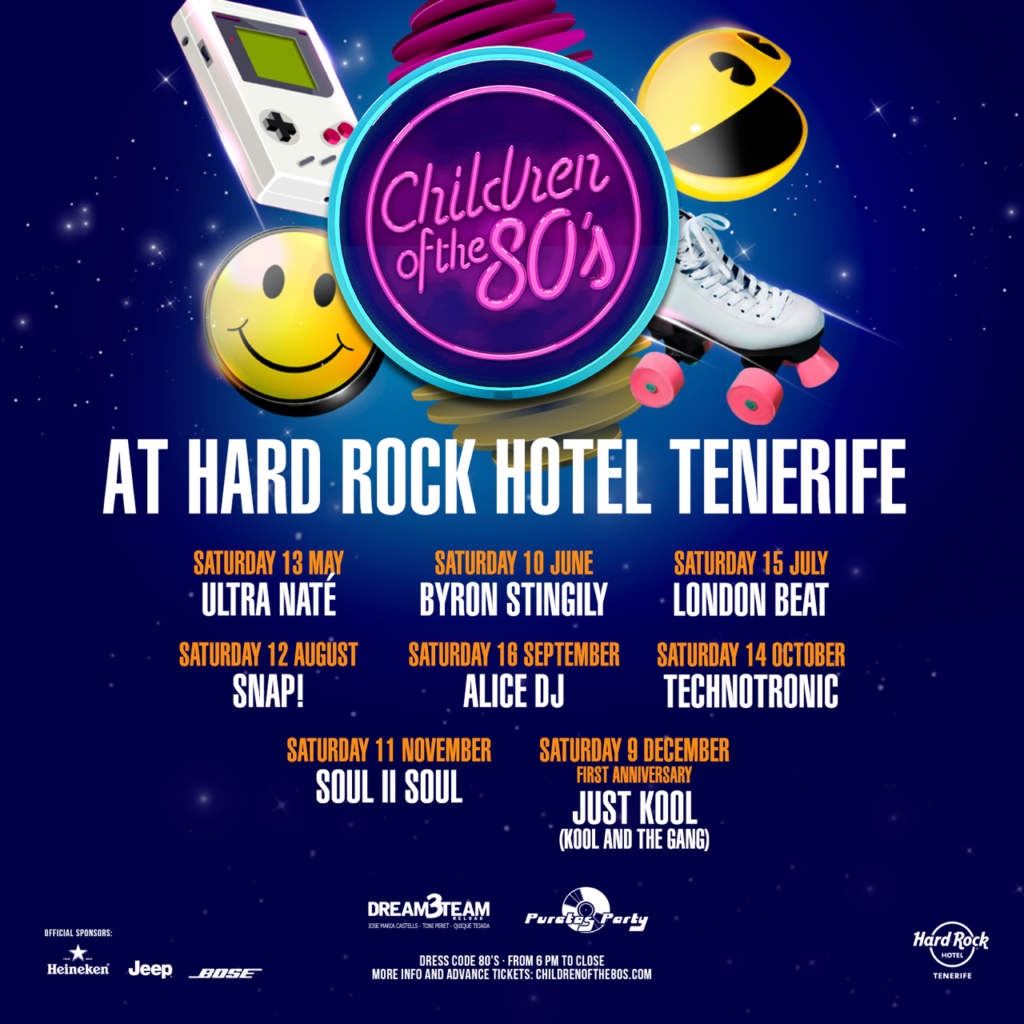 Hard Rock Hotel Tenerife has confirmed the music legends that will play at 'Children of the 80's' for the rest of the year – the hotel's monthly eighties party that has already infiltrated the island with its addictive and characteristic 'old-school' vibe.
Next to grace the open-air stage is Byron Stingily on 10 June, who'll be dancing and singing to the beat of his best eighties hits, including his famous 'Get Up Everybody'. On 15 July, Hard Rock Hotel Tenerife is flying in one of the best R&B and dance mixers of all time – Londonbeat – best known for hit 'I've Been Thinking About You'. 'The Power', the dance song that gave Snap! global success will be ringing around Hard Rock Hotel Tenerife's lagoon on 12 August. Alice DJ will light up the evening of 16 September with her 90s hits, including 'Better Off Alone', 'Back In My Life' and 'Will I Ever', among others.
The never-ending summer at Hard Rock Hotel Tenerife brings Technotronic on 14 October, known for the summer theme 'Pump Up The Jam', while on 11 November, it's the turn of Soul II Soul, whose track 'Keep On Moving' is set the make the open-air dance floor vibrate. The first anniversary of 'Children of the 80's' at Hard Rock Hotel Tenerife will be celebrated on 9 December, promising a must-see event for all dance music lovers and featuring Just Kool (Kool and the Gang).
In addition to the guest artists, each party is supported by DJ trio 'Dream Team Reload' and local Canary Island superstars 'Puretas Party', as well as dazzling entertainers and 80s costumes.
Hard Rock Hotel Tenerife is a five-star hotel located near the Costa Adeje in the south of Tenerife.  The beachfront property comprises 624 rooms, including 260 suites, which are split across two towers – Oasis and Nirvana – combining contemporary interiors and lavish amenities. The Rock Royalty Level, located on the 13th, 14th and 15thfloors of the Nirvana Tower, houses rock star-worthy suites offering exclusive services such as a private concierge and VIP check-in.
The live music entertainment is complemented by Hard Rock International's priceless collection of music memorabilia, which is displayed prominently throughout the hotel, and with the Sound of Your Stay® programme of music amenities including in-room guitar jam sessions, streaming playlists available upon check-in, and in-room delivery of professional DJ equipment, guests will experience complete musical immersion like no other.
To complement the music offering and live concerts, guests can also enjoy three pools, access to a lagoon and a beach club complete with Balinese beds, all just steps from the property. The hotel also boasts signature Hard Rock facilities including a Rock Spa®, Body Rock® gym and world famous Rock Shop®.
Guests at Hard Rock Hotel Tenerife will have full access to all live events at no extra cost.
Deluxe rooms at Hard Rock Hotel Tenerife are priced from 283€ on a B&B basis, based on two people sharing.
Tickets to 'Children of the 80's' gig are priced from 15€ and can be purchased via www.childrenofthe80s.com.
2017 line up as follows:
10 June 2017:               Byron Stingily
15 July 2017:                LondonBeat
12 August 2017:            Snap!
16 September 2017:      Alice DJ
14 October 2017:          Technotronic
11 November 2017:       Soul II Soul
9 December 2017:         Just Kool (Kool and the Gang)