Bearded Theory 2017 – Slaves, Skunk Anansie and more announced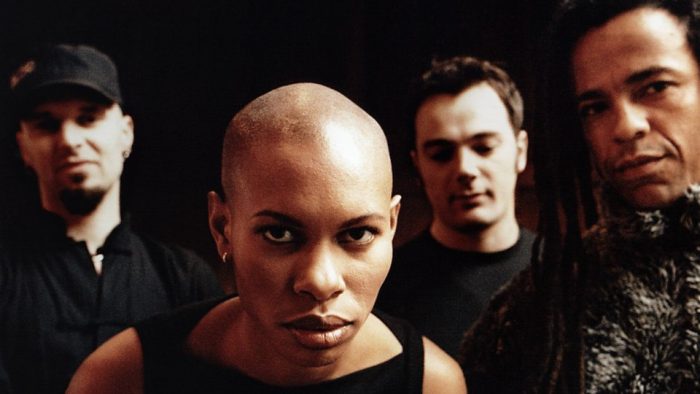 Bearded Theory are delighted to announce that seminal British rock act Skunk Anansie, and punk duo Slaves will headline the Pallet (Main) stage, on the Friday of their 2017 festival, taking place once again at Catton Hall in South Derbyshire over the late May Bank Holiday.
Fronted by the legendary Skin, Skunk Anansie will be the the first female fronted band to headline Bearded Theory`s Spring Gathering. They are also the first band BT organiser saw headline his first festival back in 1999 when they headlined Glastonbury's Pyramid Stage.
Talking ahead of their appearance the band said "Stoked to be headlining Friday at Bearded Theory. This festival is crazy good and we are looking forward to smashing it".
Radio 1 favourites Slaves have just secured their second top 10 album with "Take Control" going to number 6 in October. Their debut album 'Are You Satisfied' charted at number 8 last year, and we are delighted to have finally bagged them after a few years of trying and beating off stiff competition for their signature
In no day or order, Skunk Anansie and Slaves are joined on the Pallet (main) Stage by alternative rock/punk band The Alarm, Bearded Theory legends New Model Army, Pauline Black fronted Ska legends The Selecter, punk stalwarts Goldblade, seminary hip-hop act Sugar Hill Gang & Furious Five, festival favorites Ferocious Dog, indie rockers Kassasin Street, folk band Flight Brigade, indie band The Mocking Jays and ska act Jaya the Cat.
The beautiful Woodland Stage will be headlined on Friday by multi-million selling Britpop survivors CAST. Saturday will be headlined by Northern Ireland singer songwriter FOY VANCE, who recently supported Ed Sheeran and had him guest on his album "Joy of Nothing". Sunday will be closed by Sheffield's finest and festival friends REVEREND & THE MAKERS who specifically requested to make a Woodland Stage appearance. Jon from Reverend & the Makers said ""If festivals were judged on vibe alone then Bearded Theory is the best in the world and we cannot wait to close the 10th anniversary"
Joining these amazing headliners on the Woodland are heavy rockers TESS OF THE CIRCLE, dub punk band SMILEY & THE UNDERCLASS, folk act ROVING CROWS, Bhangra rockers KISSMET, Ska punkers DEFEKTERS, modern folk band MAIA, cow punk legends PRONGHORN who will be celebrate their 25th year anniversary in 2017, American pop rock act WHEATUS make a return to BT, heavily underrated indie band GARY J ARMSTRONG resurfaces after a hiatus, folk band BILLY IN THE LOWGROUND, singer songwriter and long-term Levellers collaborator REV HAMMER, Irish rock and roll band HOT SPROCKETS and rock band SON OF PRIMO . We still have a few bits to sort but it's shaping up rather nicely.
Line-ups for all other stages will be announced in the near year.
As a massive thank you to all our loyal festivalgoers who have Bearded Theory on its journey this far, Thursday's "bonus" Pallet stage line-up will feature virtually the entire 2008 Saturday Main Stage bill! As such we welcome back Bearded favourites DREADZONE (LIVE), 3 DAFT MONKEYS, TARANTISM, TRUE DECIEVERS, HOBO JONES & THE JUNK YARD DOGS, GAIL and FREEDOM to help celebrate our 10th anniversary year. Please note Rev Hammer is playing on the Woodland instead.
With the majority of the main stage line up for Saturday and Sunday (including both headliners) still to be announced, there are still many more surprises to come in due course – bear with us!
Bearded Theory's Spring Gathering returns after an absolutely incredible, sold out event in 2016, which received universally positive reviews; Louder Than War boldly stated that "Bearded Theory is by a distance the best medium sized festival in the country".
The press accolades have also been echoed by the music industry, and Bearded Theory are delighted to announce that they have been shortlisted for both Best Small Festival (which Bearded Theory won in 2013), and Best Family Festival at this year's prestigious UK Festival Awards.
New additions planned for Bearded Theory 2017 include a Cinema Tent, an expanded line-up of music on the Thursday and a new late night 'disco' in the Maui Waui tent.
Once again, Bearded Theory's unique Festival School will be returning. Enrolments to the Festival School will go live on September 10th at 9am. Please note that you will need your ticket reference number before enrolling your child. The Festival School can assist in taking your child out of education without being fined. For full details please see the website.
Bakewell's independent Thornbridge Brewery will continue their successful relationship with Bearded Theory, once again running the on-site bars and bringing with them a wide selection of Ale's and Ciders at exceptionally reasonable prices.
TICKETS
Tickets are priced at £105 (Adults), £55 (Under 16's), £25 (Under 12's). Under 6`s are free (ticket is still required). £35 (Campervans) £12.50 (Parking). Booking fees apply.