Anteros to support Two Door Cinema Club & Blaenavon on UK tours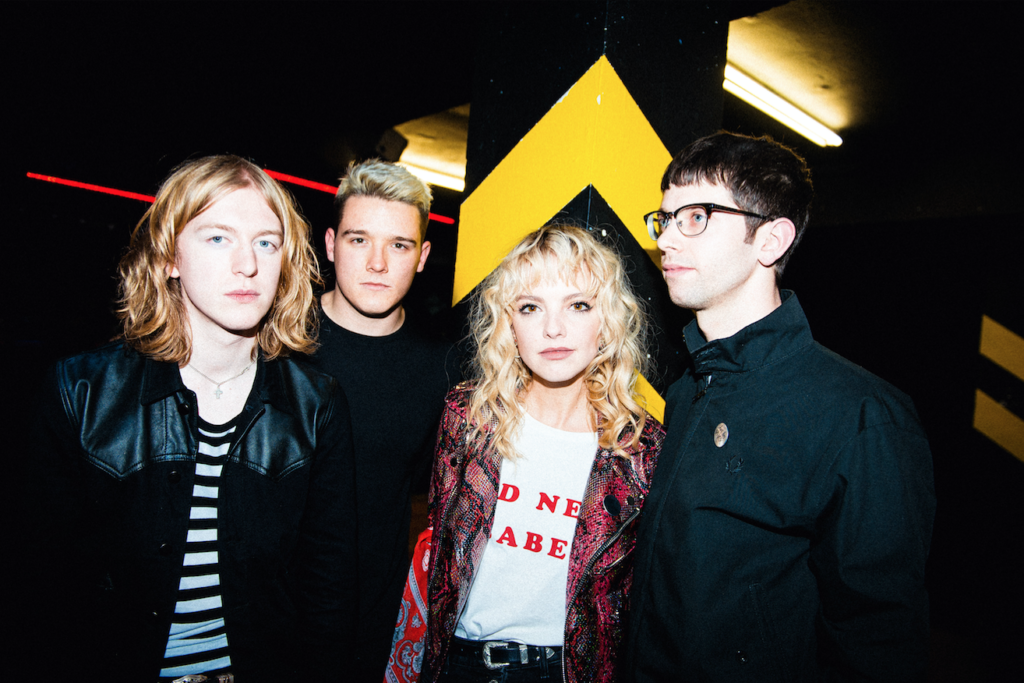 Anteros announce that they will support Two Door Cinema Club and Blaenavon on their respective UK tours. The rising indie pop stalwarts will play ten dates with Two Door, followed by eight dates supporting White Lies on their UK tour in March and six dates with Blaenavon in April, including London's Heaven. Tickets for all upcoming dates are available here.
2016 saw Anteros build from strength to strength, blazing across the live circuit with their consistently exuberant showings and releasing two critically acclaimed singles, 'Breakfast' and 'The Beat'. The London-based four-piece were named Annie Mac's New Names for 2016 upon the release of 'Breakfast', while its follow-up 'The Beat' was praised by BBC Radio 1's Phil Taggart for 'a chorus so good it needs to go outside and have a word with itself.' With two huge support tours, a headline slot at Worcester's Uncover night and a set at Secret Garden Party already confirmed, 2017 is set to be a career-defining year for the band.
Fronted by the fiercely endearing Laura Hayden, Anteros' sound has been compared to that of No Doubt and The Cardigans for its 'spellbinding charm' (DIY) and 'sugar-sweet melodies with wry, smart lyrics' (Nylon). Seamlessly gliding between sun-soaked indie pop and electrifying '70s disco, the band's latest EP 'Breakfast' exhibits effortless charisma and a perfectly refined ability to craft instant pop gems, casting aside what it is to be 'cool' in the current indie landscape in favour of fun, vibrant earworms. 'We can't imagine a life without music now' says Hayden of their journey so far, indicating that Anteros have no intention of slowing down on their path to becoming your new favourite band in 2017.
Anteros will play the following live dates in 2017:
January 25        Cambridge Corn Exchange (with Two Door Cinema Club)
January 26        Uncover at The Marrs Bar, Worcester (headline)
January 27        Manchester Apollo (with Two Door Cinema Club)
January 28        Manchester Apollo (with Two Door Cinema Club)
January 30        Leeds, O2 Academy (with Two Door Cinema Club)
January 31        Newcastle, O2 Academy (with Two Door Cinema Club)
February 2        Liverpool Guild of Students (with Two Door Cinema Club)
February 3        Glasgow, Barrowland (with Two Door Cinema Club)
February 4        Glasgow, Barrowland (with Two Door Cinema Club)
February 6        Southampton, Guildhall (with Two Door Cinema Club)
February 7        Bristol, O2 Academy (with Two Door Cinema Club)
March 2            Portsmouth, Pyramids Centre (with White Lies)
March 3            Hull University (with White Lies)
March 6            Preston, Guild Hall (with White Lies)
March 7           Aberdeen, The Garage (with White Lies)
March 8           Edinburgh, Potterrow (with White Lies)
March 9           Hatfield, The Forum (with White Lies)
March 11         Keele University (with White Lies)
March 12        Norwich, UEA (with White Lies)
March 25        London, The Finsbury, In The Picture – Women In Music Event
April 2 Newcastle, Think Tank (with Blaenavon)
April 3 Glasgow, King Tut's (with Blaenavon)
April 4 Liverpool, Studio 2 (with Blaenavon)
April 5 Birmingham, Hare & Hounds (with Blaenavon)
April 6 Nottingham, Bodega (with Blaenavon)
April 7 London, Heaven (with Blaenavon)
July 22            Secret Garden Party Festival
Connect with Anteros: